Final preparation for the 32nd Annual $5,000 Raffle and Dinner this evening at Atlas Valley Country Club provided the primary focus for the 19 members in attendance at today's meeting. John "J-Lo" Losinski verified the availability and assignments of volunteers for transporting, assembling, distributing, processing, and recording the activities required to hold this complex event,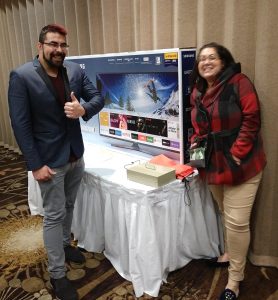 and the Club rallied to pull it off successfully. As the photo on the right show: J-Lo's daughter and son-in-law were very pleased with the oversized television won in the Side Raffle, and Mary Coletti and Sherry from St Louis Represented by Bill Hentgen agreed to split the $5,000 main prize when they were the final 2 remaining in the drawing.
President Phil opened the meeting a little informally because he was without a key allowing access to the cabinet that holds our Optimist gear (bell, crown, pot, badges, etc.) and paid a fine for this, but he recovered beautifully when he "magically" opened the cabinet before our eyes. Carol Dennings "volunteered" to act as TailTwister until Jack Medemar arrived (late, resulting in a fine), Bill Hentgen paid a fine for his "Patchwork Paisley" shirt, Steve Schlott paid a fine for Bill Hentgen's harrassment of "King" Jeff Dennings and Steve was charged up enough to fine Matt Mrasek for "flying under the radar" and simply sitting quietly minding hjis own business, and Greg Hilliker paid a fine by King Jeff for "allowing the meeting to die". The Club circulated cards for signatures, to be sent to member George Kitchen and to Tammy, one of our long-term and long-suffering waitresses who is now off work and caring for her ailing mother. Carol Dennings sent around a sign-up sheet for the Santa Run on 12/1/18, the annual MSD Christmas Breakfast will be on 12/20/19, and we are currently planning for a Masonic Temple Chicken Dinner Fundraiser for 4/29/19.
Until next time,
"Promise Yourself…",