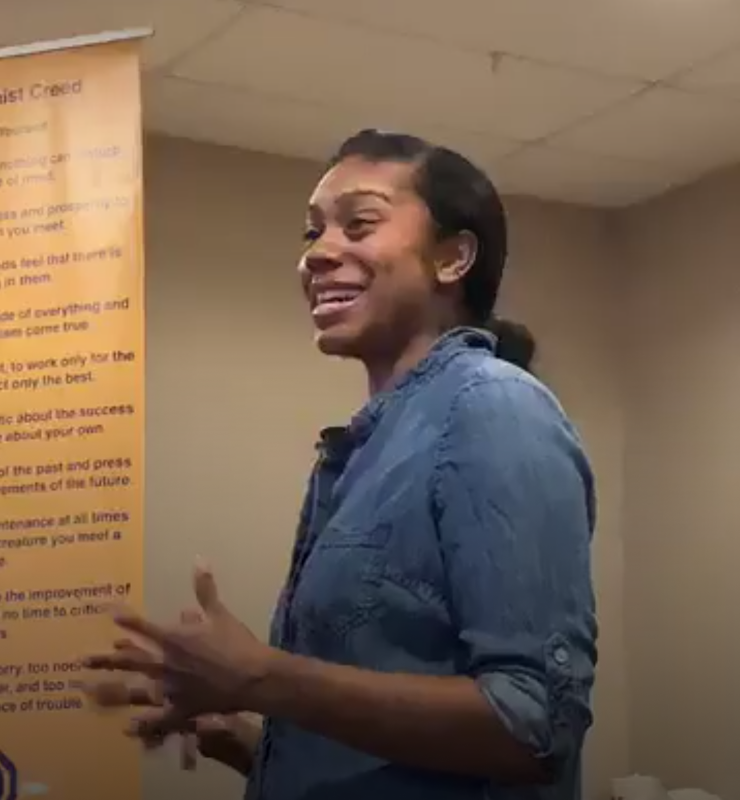 Brandee Cooke, Project Manager at "100K IDEAS" working out of the Ferris Wheel in downtown Flint, told us about this exciting new addition to Flint's business scene. (She was accompanied by Vivian, Youth Engagement Coordinator for "100K".) This student-led operation might go beyond "incubator" for entrepreneurship to be a "neonatal unit" where ideas can be fleshed out, reified, and grown through very specific action plans and connections into real, marketable products and business ventures. The Ferris Wheel setting gives space for meeting, conferencing, collaborating, and experimenting as the direction of development becomes more focused and refined. Successful endeavors include "KALM Clothing", and a moveable wall partition system business. (A new mom married to a lobbyist, Brandee enjoys living, working, and playing in Downtown Flint.)
Greg Hilliker, standing in for the vacationing President Phil Holmblade, opened the meeting of a relatively small group (13) and after the Pledge by Art Ridley and grace, opened fines: Steve Schlott was fined for usurping leadership of the meeting, Ron Ballard paid one for sitting with "all of his friends", Bill Reeves could not pass one against the TailTwister Jack Proffitt, Kevin Wainwright fined all those not wearing Optimist clothing, and Bill Hentgen passed one against all those not wearing shirts as "colorful" as his.
Club reminders: 26 Essays are being judged for the Contest, and winners are to be with us on the 28th, Big Brothers/Big Sisters Bowling is the 21st and thanks to all who are sponsoring or bowling, we are approximately halfway to our stated OIF fundraising goal, and Oratorical Contest is planned to be in March.
Until next time, "Promise Yourself…"